Like other islands in the Canary Islands, Gran Canaria was home, until the arrival of the Castilians in 1478, to an important local culture of Berber origin that developed a remarkable culture that included parietal art, generally on the ceilings and walls of caves dug out of volcanic tuff. The extraordinary Galdar Cave, with its paintings and the sites of the Risco Caído Landscape, with its engravings and incised forms.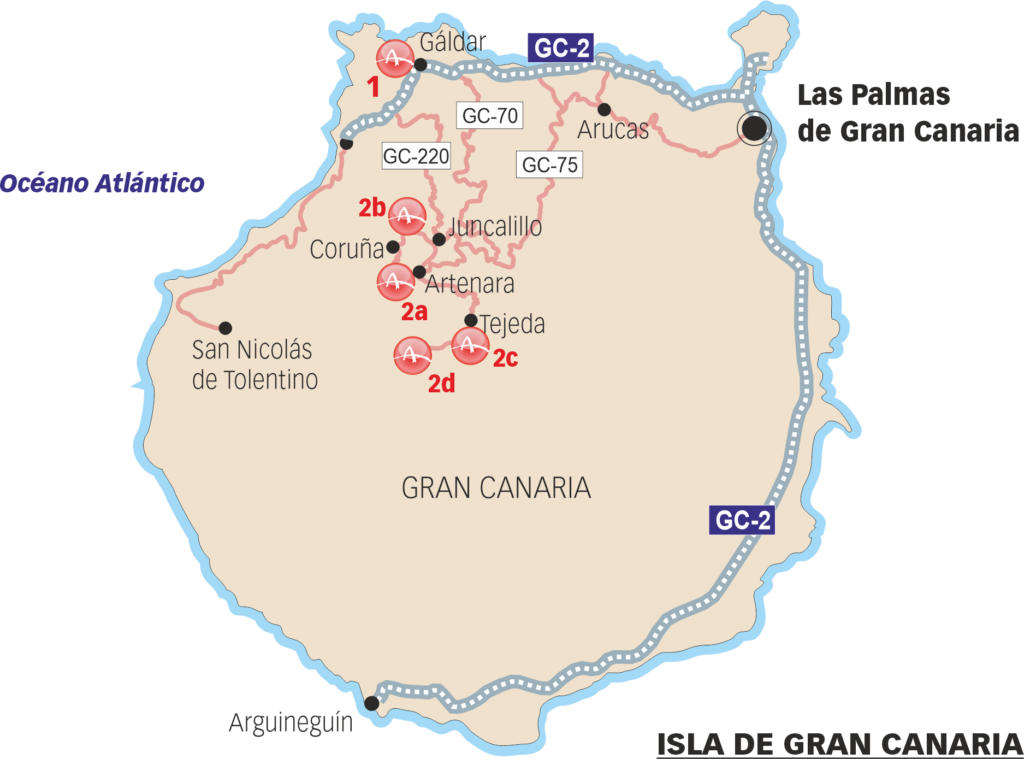 Not to be missed: The Museum and Archaeological Park of the Cueva Pintada de Gáldar is a fantastic destination to visit with the family and discover life in a pre-Hispanic Canarian settlement and its colourful, geometric rock art. The ancient troglodyte settlement of Risco Caído, with its 21 caves carved out of volcanic rock and its rock art made up of cupules, pubic triangles and engravings in low relief.
How to get there: The route starts in the town of Gáldar, in the north of the island. From there, and along Cabildo Insular roads – or local roads – we enter the formidable and tortuous landscape of the inland mountains, to the landscape of Risco Caído (in the municipalities of Artenara, Tejada, Agaete and Gáldar), where we can carry out various activities, including routes that go around the archaeological sites, visit the interpretation centres and other activities organised around this Cultural landscape, declared a World Heritage Site by UNESCO, in 2019.